We asked Multiply Goodness author Catherine Arveseth if we could share this beautiful tribute she wrote for her grandmother last month. We think her grandmother Dorothy exemplifies exactly what it means to multiply goodness, and we've been thinking about it ever since we read it. We hope you learn as much as we did and that you enjoy learning more about Dorothy.
---
We were 208 feet off the ground and teetering on the edge of insanity. White-knuckling the seat in front of me, I stared at Ali, my eight-year-old, with wide eyes. In a matter of seconds we would plunge into a 116° inverted free-fall, followed by a series of loops and corkscrews through which this new roller coaster would spin at speeds up to 70 mph.
What were we thinking? A few days earlier the ride was still being tested! It's name? The Cannibal. Because it eats other coasters in its tracks. As well as cell phones, sun glasses, hats, and any common sense you had on the ground.
The ride was nutso! We screamed. We fell. At an angle beyond vertical! But we survived.
We laughed our way out of the exit and yelled to my sister, "You gotta do it!" My kids and their cousins were wearing neon yellow t-shirts. Couldn't miss any of the them as they dodged in and out of crowded lines. My sister-in-law made the shirts for our Keddington reunion, and on the front she displayed one of our favorite family sayings, "Our IQ demands it!" A philosophy preached by my Grandma Dorothy, who believed life was best lived with a curious mind and an adventurous spirit.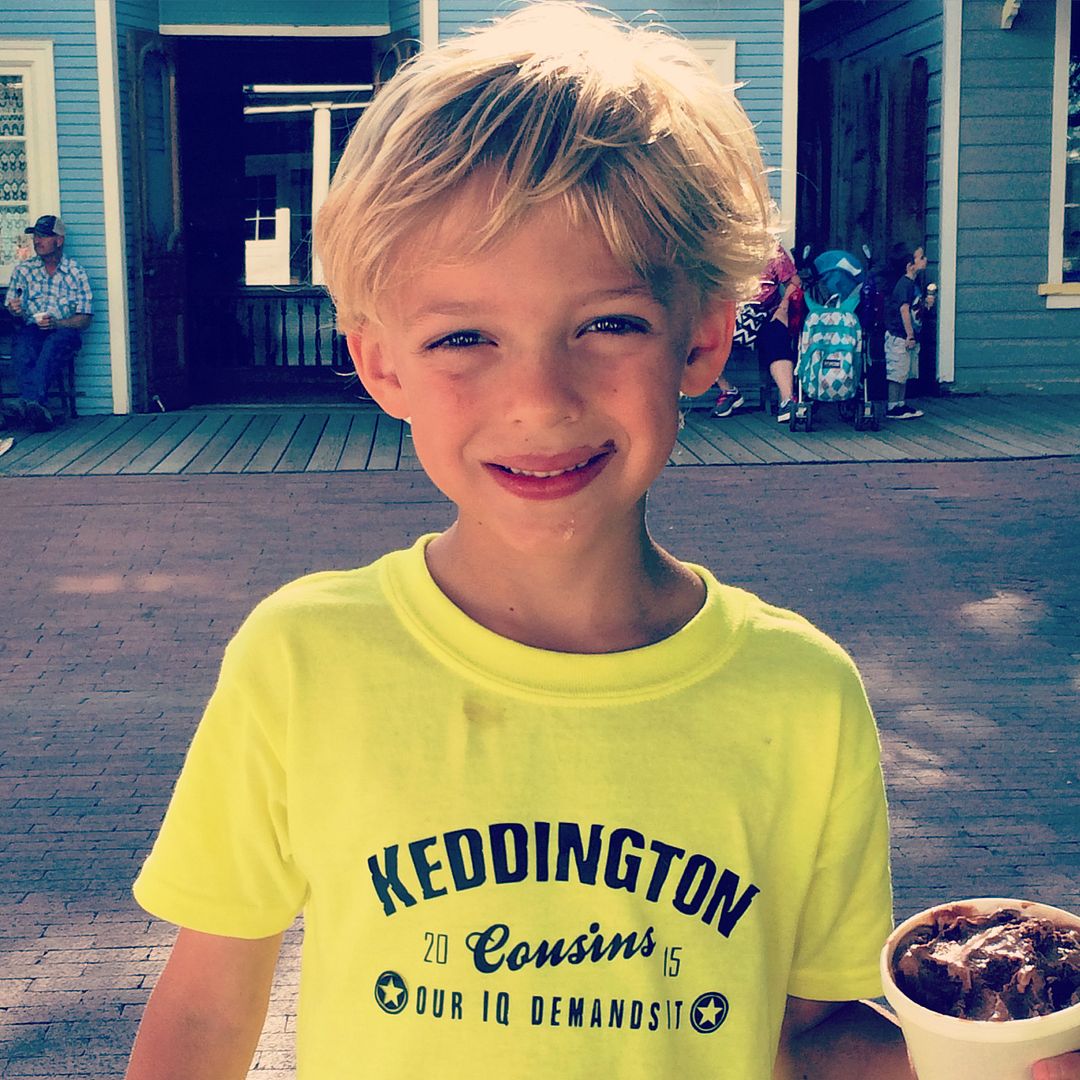 And that's why we were riding the scariest ride in the park. Our IQ demanded it.
My Dad remembers, as a little boy, learning his father's office building had caught fire. When my grandmother heard about it, she gathered up her children and drove them downtown to watch firefighters tackle the flames. Why? Their IQ demanded it.
He remembers her excitement the day Neil Armstrong set foot on the moon. No one was allowed to leave the living room. She circled them round the television set and told them everything she could about space exploration and this significant leap for mankind. Then together, they held their breath as Armstrong planted the American flag on lunar soil.
My uncle remembers traveling with Grandma when she was much older and stopping at the windiest spot along the Pacific coast, the Point Reyes Lighthouse. Although she had arthritis and two knee replacements, she was determined to walk the 308 steps down to the lighthouse. (And back up). Why? Her IQ demanded it. He recalls her triumphant smile as she stood next to the lighthouse for a photo. White waves crashing below her feet.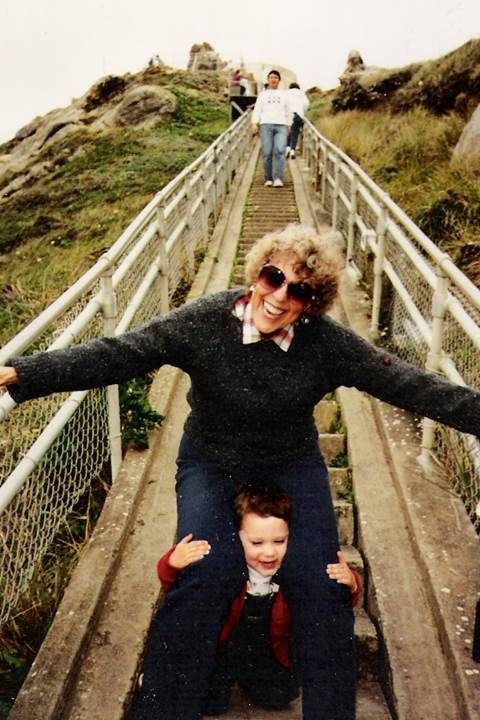 Grandma approached everything with contagious enthusiasm. Books, school, family trips, news, weather, music, LIFE. She taught third grade and knew the name of every dinosaur, every Star Wars character, every kind of spider. To me, she was like an encyclopedia. But way more fun.
Some summer evenings growing up, I remember the phone ringing and it would be Grandma on the line. "Have you seen the sunset?" she would ask. "It's glorious!" She would call to tell us tidbits of world news or to make sure we were watching the lightning storm as it rolled over the Oquirrh mountains.
She taught me about prisms and how they refracted light. She helped me with my rock collection for school, told us where to find the best shale and granite in Utah. We collected bugs and spiders in mason jars. Sometimes we even put them in the freezer for a few hours then got them out, just to watch them reanimate.
When you traveled with Grandma, you stopped to read historical markers, ventured into interesting shops, and learned everything you could about where you were. Why? Your IQ demanded it.
In 2004, Doug and I were living in Virginia during the invasion of the cicadas. Brood X, scientists called it. An insect phenomenon that happens every 17 years in which cicadas surface to find a mate, breed, and die. That spring cicadas were everywhere, hanging in every tree, covering every sidewalk. It was astonishing. And I was on the hunt for the perfect cicada with bright red eyes, and its casing. I found both and put them in a box to wrap. When Doug asked me what I was doing I said, "Mailing them to my Grandma, of course! She'll love it!" And she did. After she passed away, my Dad found the cicada among her scientific treasures.
She sounds eclectic and maybe a little crazy. But really, she was brilliant, refined, and lovely in every way. This same woman left Salt Lake as a young woman to sing opera in New York City, became a premiere soprano soloist with the Mormon Tabernacle Choir, lost her sweetheart husband to a heart attack in her fifties, but never lost joy at living on this remarkable earth. Never saw it as anything but a gift, a thrilling journey, with endless truth to discover.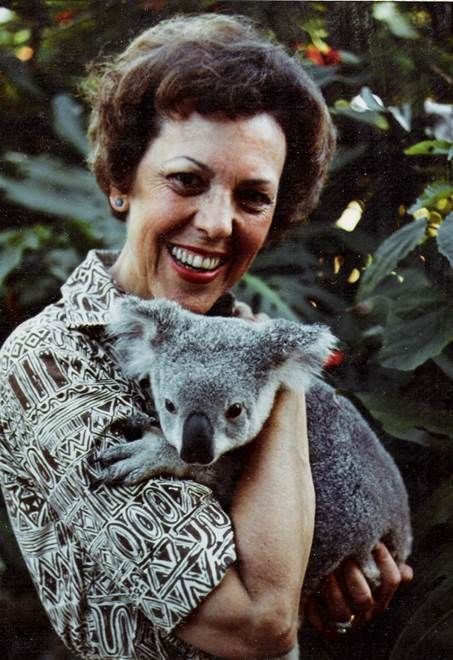 She traveled globally with the Mormon Tabernacle choir and other church-related assignments, always sending postcards to her children from fascinating points of interest. With her affinity for travel, came a natural love for all kinds of people.
I learned so much from my grandmother, who taught us to follow our question marks to the closest museum or road sign, into a new book, or to an interesting menu, just so we could see what quail, bison, or chocolate covered ants taste like.
My Dad believes she got this love of life from her mother who always told her, "Take every opportunity given to you. Go out. And get experience."
Life gets muddled for me sometimes. Occasionally I lose the joy, forget the purpose of being here on the earth. Then I think of Grandma, her eyes sparkling with interest, and I remember.
I miss you Grandma. But I believe you are closer than we think. You are there when we push ourselves to do something scary, try something new. There when I stop my children to examine purple monk's hood on the trail, watch the State of the Union, or pull off the boulevard to marvel at lightning in the western sky.
Yes, sometimes I hear your laughter on the wind. I'm sure you are still here. Your IQ would demand it.
Share with me your own "IQ demands it" moments. Who or what reminds you that life is about joy? How do you maintain a love for life and learning?